This quilted stocking will be a favourite each Christmas, and is a perfect way to introduce a touch of classic style to your festive celebrations!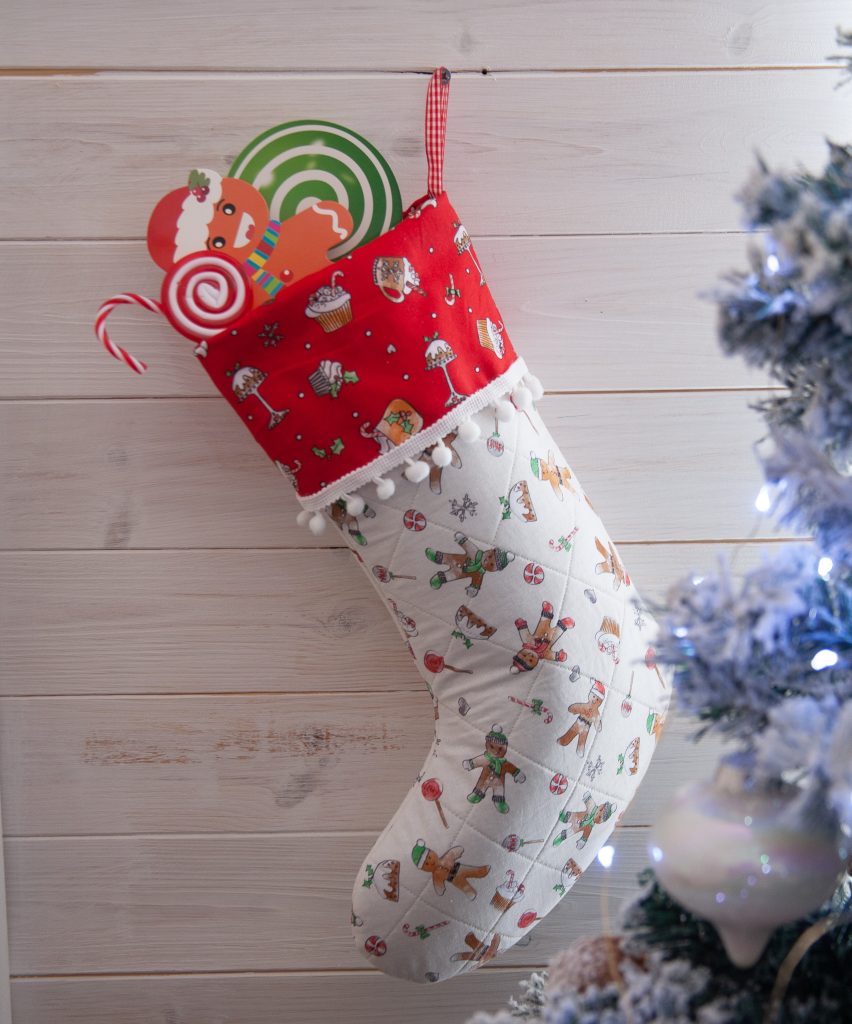 We've used fusible fleece to interface but wadding/batting would work just as well, you may like to use a basting spray (505) if using a non-fusible.
Finished size: 11" x 15"
Materials:
outer fabric (gingerbread people)
lining fabric (gingham check)
fusible fleece (H640)
cuff fabric (Gingerbread Mugs)
ribbon(red gingham)
pom-pom trim (white)
Erasable marker pen and ruler
Find the Stocking pattern download HERE
Use ½" seam allowance
Cut out your pattern pieces so that the shapes are mirror-imaged. Fuse fleece to the wrong sides of the outer pieces. Draw diagonal lines 2" apart in two directions and sew to quilt.
Sew the outer pieces right sides together leaving the top open, then repeat with the lining, this time leaving a turning gap of about 4" in the back seam. Turn the outer stocking the right side out.
Sew the 8" sides of the cuff fabric right sides together to form a tube.
Fold in half wrong sides together.
Slip the cuff over the top of the stocking, raw edges meeting at the top and seams matching at the back. Make sure if you're using a directional fabric the pattern is the right way up! Fold the ribbon in half and pin, facing downwards over the back seam. Sew withing the seam allowance around the top.
Drop the outer stocking inside the lining right sides together and sew around the top.
Turn the right side out and sew the turning gap closed.
Push the lining inside the stocking and press. Hand sew or glue pom-pom trim around the cuff.