How fun is this knit fabric? As soon as it arrived, I knew I had to make some sort of jumper out of it! I've been loving the rise of crochet clothing trend over the past few years, but because I haven't learnt how to crochet, I've had to admire from a far. There is something so charming about granny squares and handmade fashion and it is refreshing to see this becoming popular again in a time where fast fashion is rife!
A tie side sweater is a great layering piece for winter and is great to throw on when you're in a hurry but want to look put together. It can be layered over shirts and long sleeve tops adding some extra warmth during these chilly months.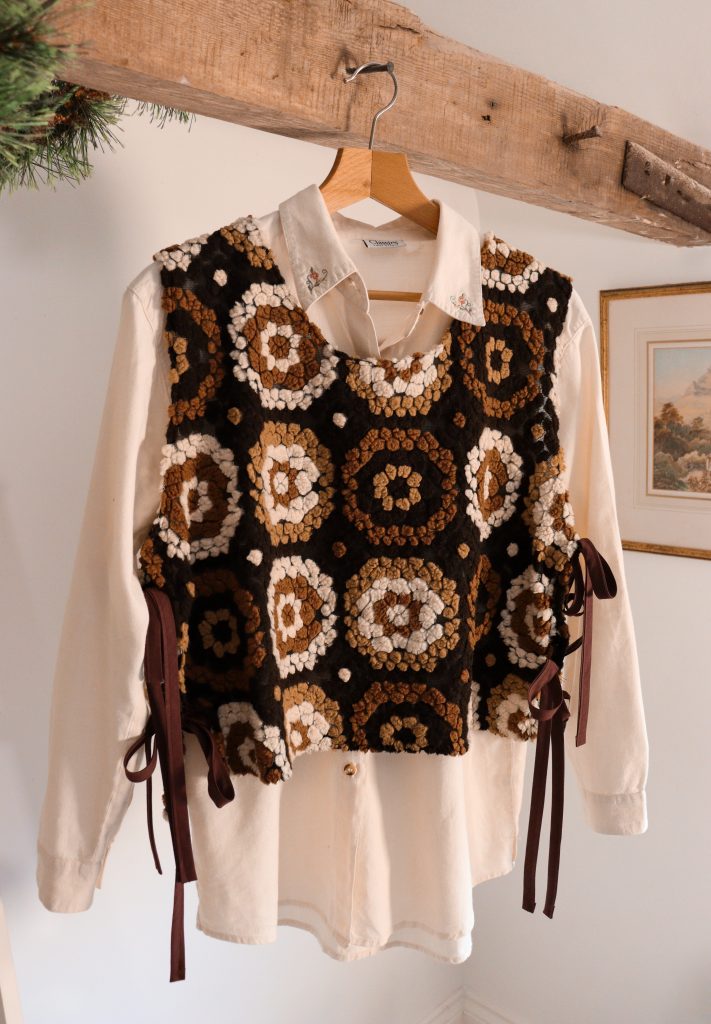 I didn't use a sewing pattern for this top, it was very simple to self-draft from a jumper I already owned. I used a tracing paper to outline the shape of the front and back of an oversized jumper and decided on the length I prefer. The neckline can be customised too making it higher or lower, depending on your preference! Alternatively, if you happen to have a sewing pattern that a jumper can be drafted from, that would work too.
This fabric is very easy to work with. It doesn't need a lining and doesn't actually need hemming! It doesn't fray when it is cut which means that the seams don't need to be sewn with an overlocker or finished in any way. I cut the pattern using the selvage of the fabric as the bottom hem which worked really well and definitely didn't need finishing as it had a tufted edge. I decided to fold over the arm holes and neckline and hemmed them just to see if it would look ok and I like the result.
For the side ties, I used brown 25mm bias binding and cut 8 strips, four for each side. Using ties on the side rather than sewing give some extra detail and interest to the jumper, but this isn't necessary as the jumper can go on over my head without having to undo the ties.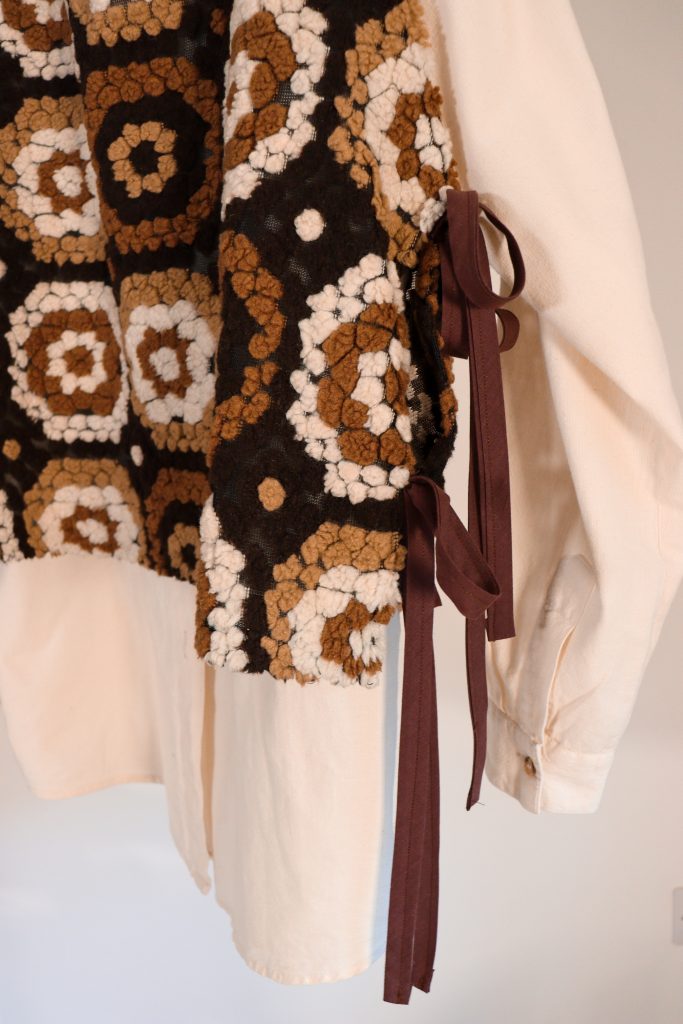 It is giving retro 70s fashion and I love how it turned out. I've layered my jumper over a vintage shirt I found on Vinted and it's the perfect combo. The Batwing Top would be a great pattern to use as a base for this fabric, maybe going up a size because it isn't a stretchy knit. I've got other plans for this fabric because I only used half a metre for this make! So, I'm thinking a cardigan next..
Thank you for reading, the link to the fabric can be found below.
Until next time, happy sewing! Kym
Shop here –