This is a quick way to make a puff cushion with ties to secure to a chair using Forest Patchwork from Kimberley's Forest Journal fabric collection. Patchwork fabric is very versatile and can look as though a project has taken much longer to sew together then it really has! The puff quilt technique would usually mean having patch the small squares together individually first, but this skips the patchworking process save time.
What you'll need for a 15" chair seat
25" x 25" Patchwork fabric – or 5 x 5 squares
16" x 16" Backing fabric
40" x 3" fabric for ties
Toy filler
Sewing Instructions –
With the patchwork fabric, pinch approximately ¼" at the vertical edge of each square, fold, and sew in place.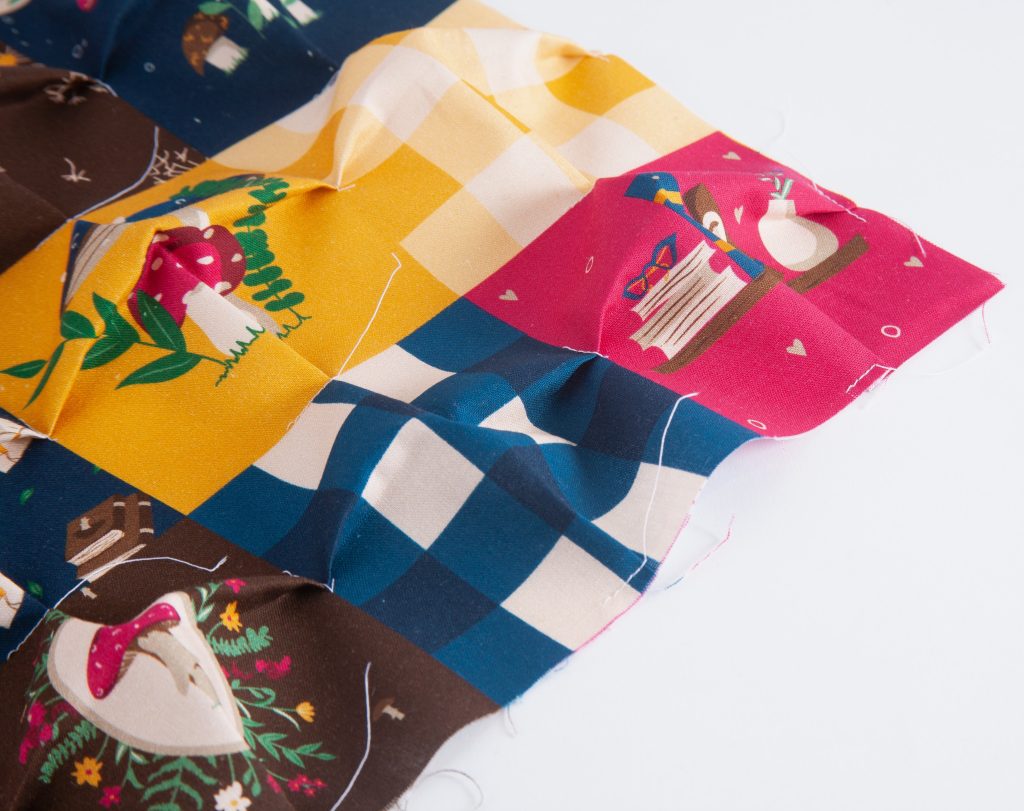 2. Repeat with the horizontal lines and around the edge of the fabric.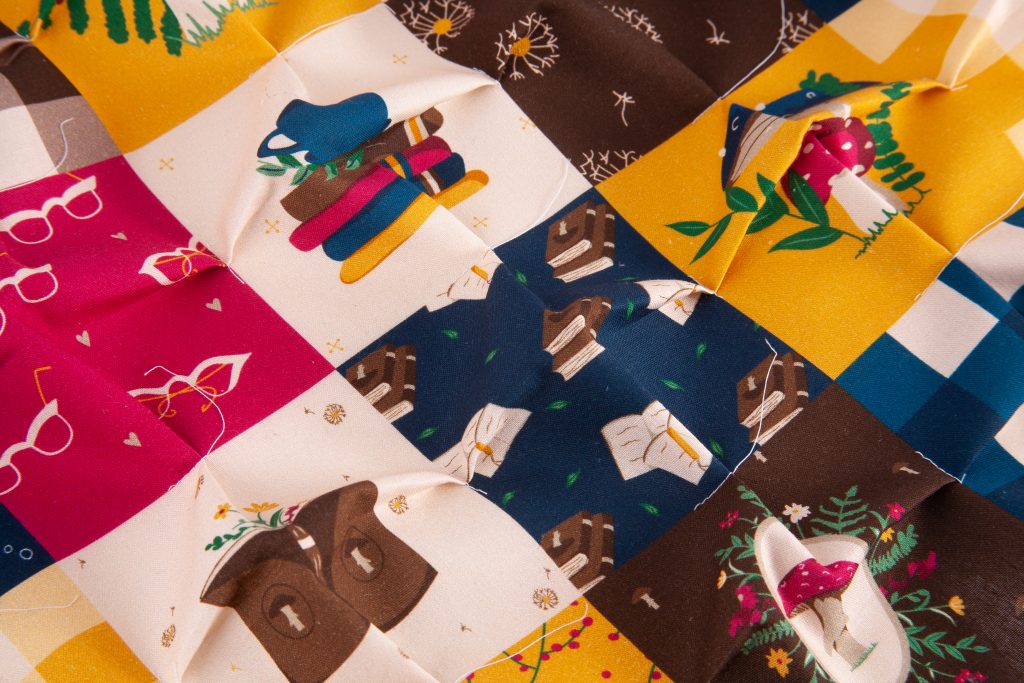 3. Cut a piece of backing fabric roughly to the size of the patchwork fabric. Be sure not to stretch out the patchwork fabric when you're measuring the backing.
4. Sew right sides together around all 3 sides leaving the top open. Snip the bottom corners (careful not to cut through and stitches you've just sewn). Trim back any excess backing fabric from the same 3 sides.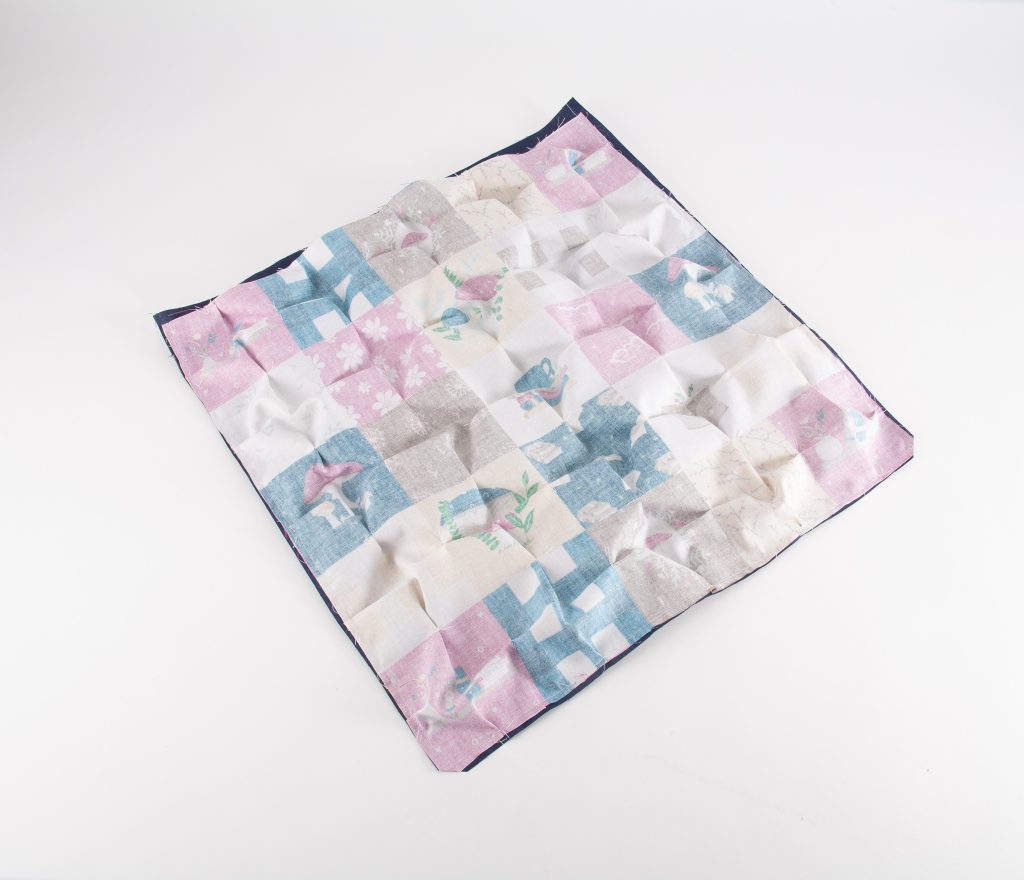 5. Turn right side out and sew down each vertical line between each row of squares.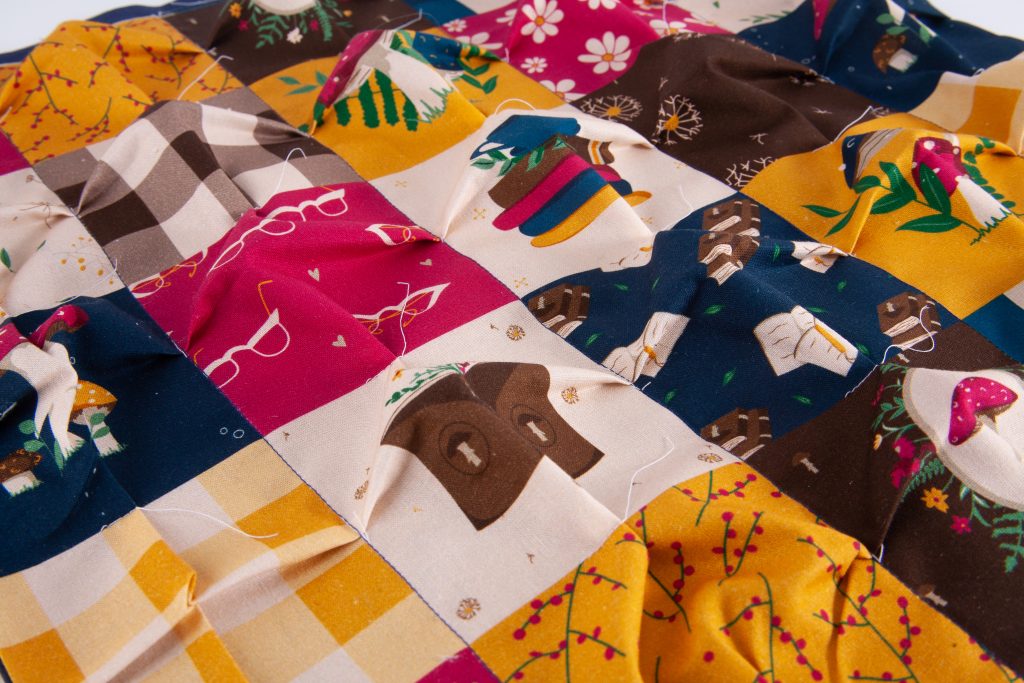 6. Take a hand full of toy filler and stuff down each channel until the bottom row of squares is filled. Don't over-stuff as it will make it tricky to sew!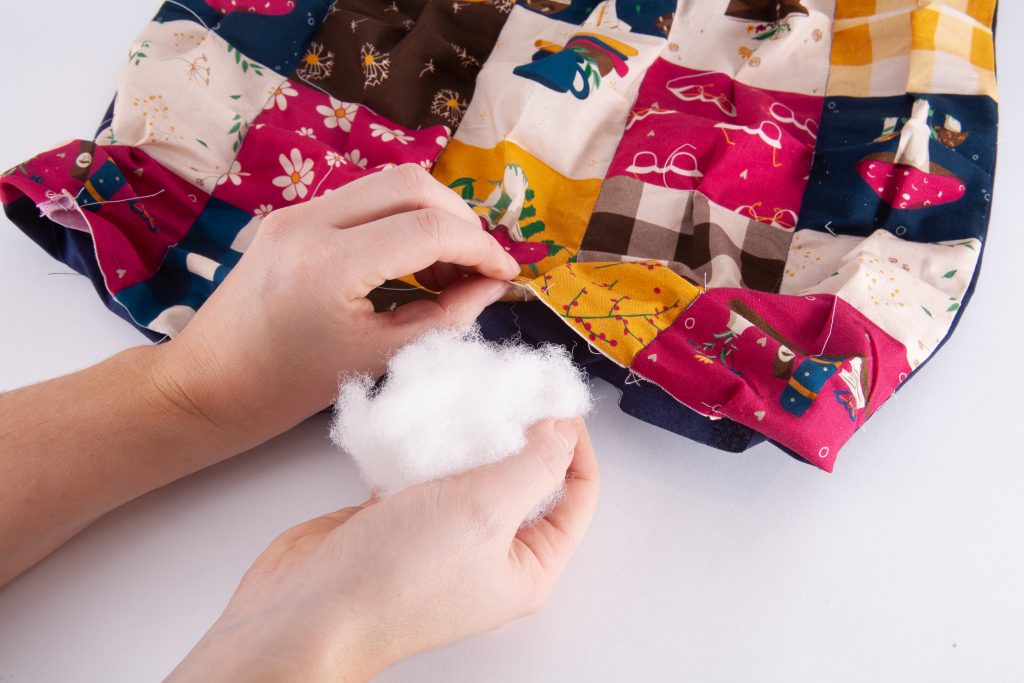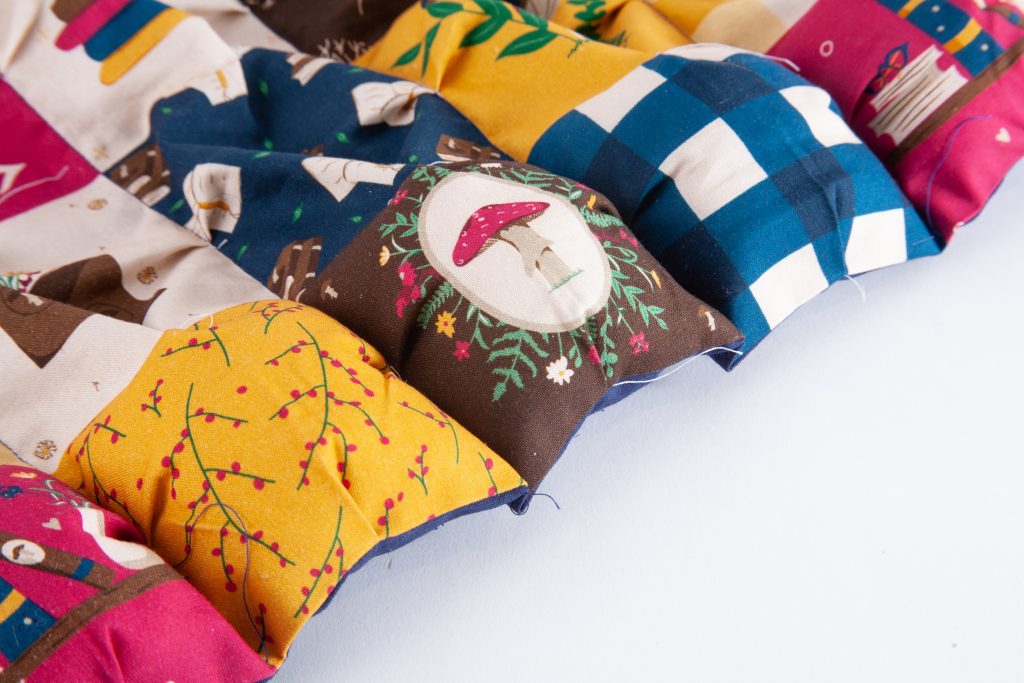 7. Once the bottom 5 squares are stuffed, sew across the horizontal line. You may need to push the stuffing in further to clear where you sew. If any pleats have come loose, sew these in again as you sew each row.
8. Repeat steps 6 and 7 until all the squares are filled.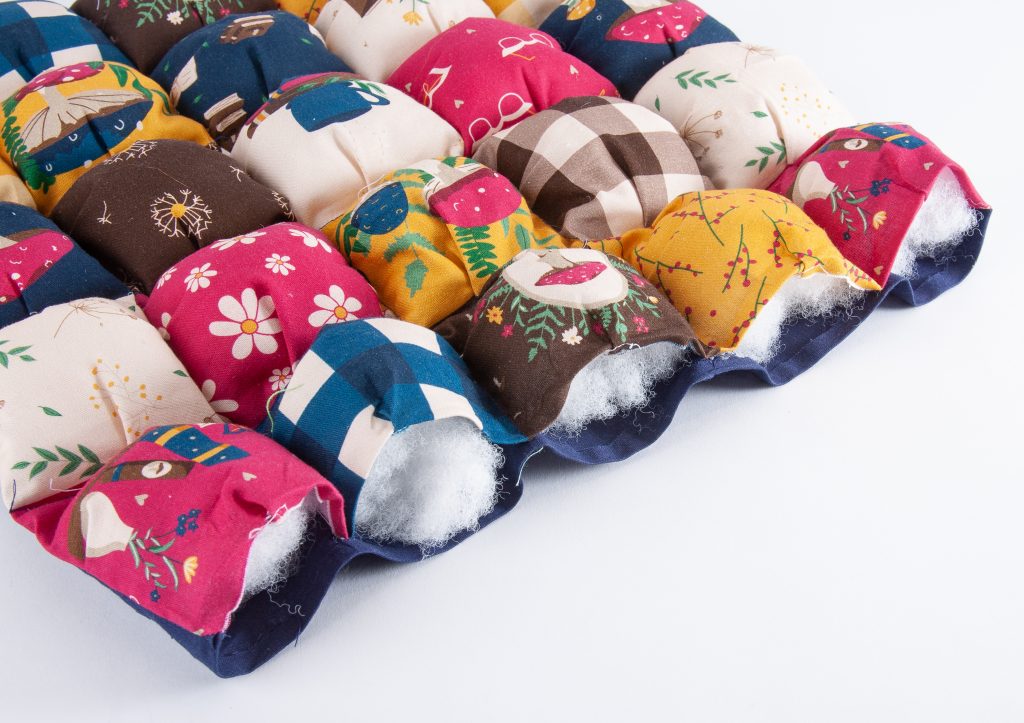 9. To make the ties, cut two lengths of fabric each measuring 20" x 3". Fold the short ends under by ¼". Fold the long sides to the centre then in half again and press, then sew.
10. Fold each tie in half and slip the folded end inside the cushion pad, approx. 3" from each side, or measure against your chair back and align the ties to the struts. Sew straight across to close the cushion, sandwiching the ties in the seam.
Now your cushion is ready to be tied to your chair!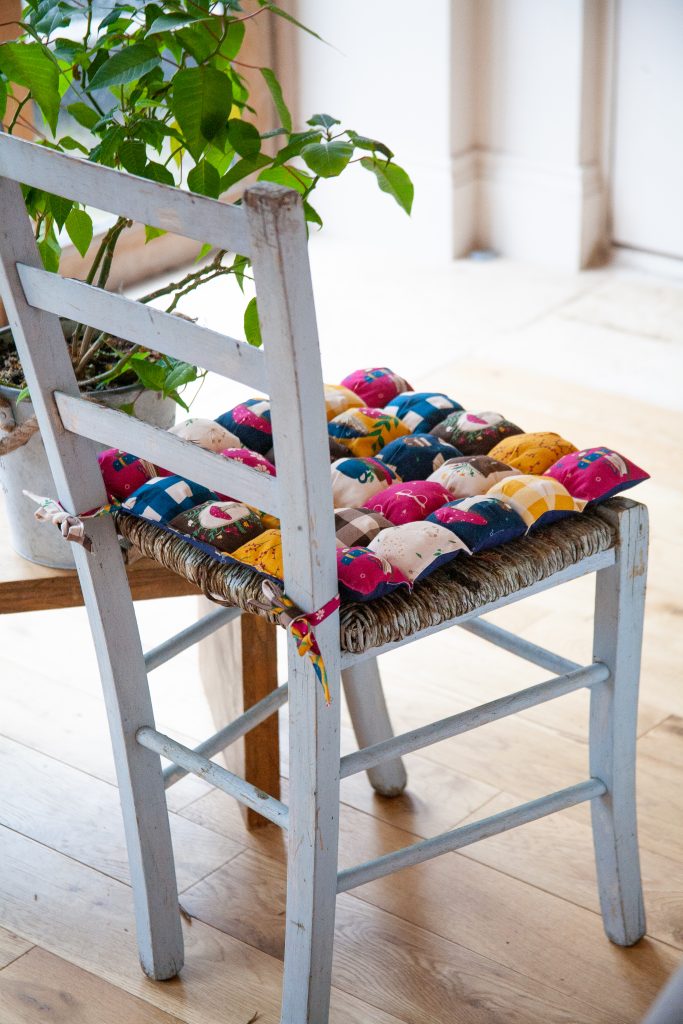 Fabrics featured in this sewing project –